Do you believe in positive and negative energy affecting your sense of peace and livelihood? It is a matter of belief and, in most instances, is a fact.
Every time something goes wrong in your life, look around. You will see everything else will contribute towards making it worse. And this is called the overpowering nature of negative aura.
And the same happens when you are surrounded by positivity around you. When you are happy, you tend to get more optimistic. Everything will land in a perfect line to give you what you intend to achieve.
Our mind, body, action, and environment are significant contributors to these energies.
But we have ways to overcome the powers of negativity and bring more positive energy to our environment. A smudging ceremony is one of those brilliant solutions. Let's learn how to perform it.
Ever Heard About Smudging?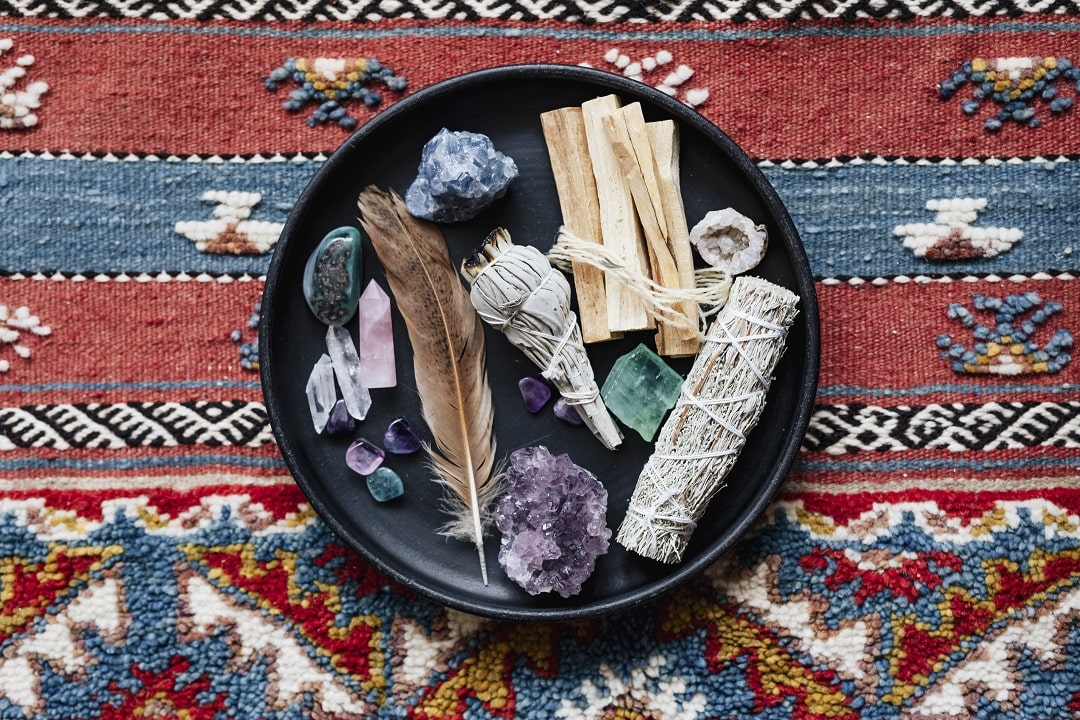 When happiness, joy, and celebrations can't last long around your home, the negative energy corrupts the mind. As humans, we are constantly interacting with these energies. And it comes from other humans, places, spirits within, and nature.
These interactions can turn toxic when you are spiritually imbalanced or surrounded by a negativity-filled space. Smudging is the process that cleanses the space to be free from negativity and invites positive energy to replace it.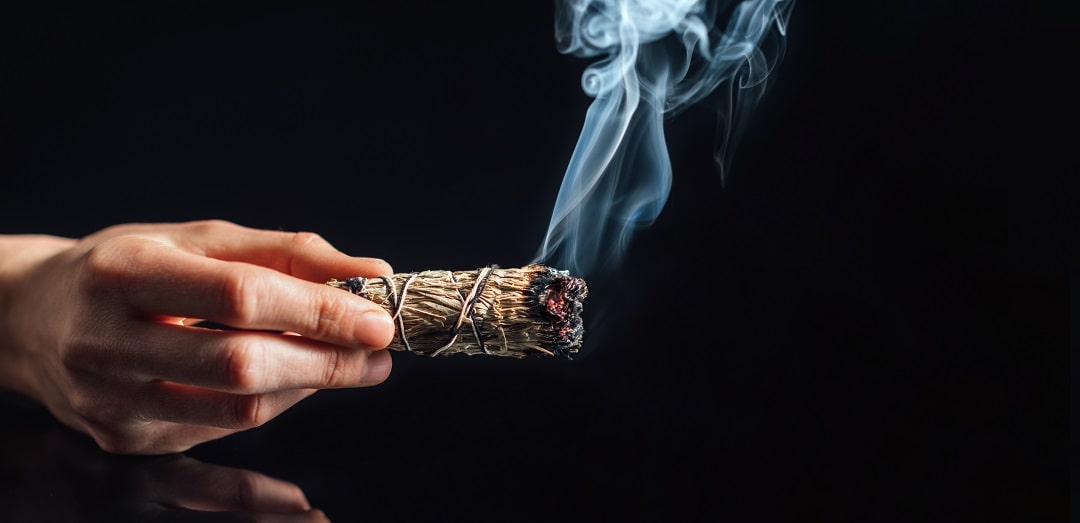 In this process, sacred plant material is burnt to produce aromatic smoke. It is believed that this smoke purifies the environment around you. It builds a divine connection between you and the supreme almighty in heaven to shower you with positive energy.
This religious practice has been in play since the era of ancient Egyptians, and it is believed to have worked immensely well.
After the removal of the negative energies through smudging, people tend to ask the Holy Spirit for protection, prosperity, and blessings for the family.
Have you ever felt more sluggish and tired in your home when you haven't done any such exhausting work for the day? And do you then feel just fine when you walk out of your house for the day?
We know most of you can relate to it because this happens due to the negative energy in your living space. And smudging is the right way to overcome it.
How to Conduct smudging?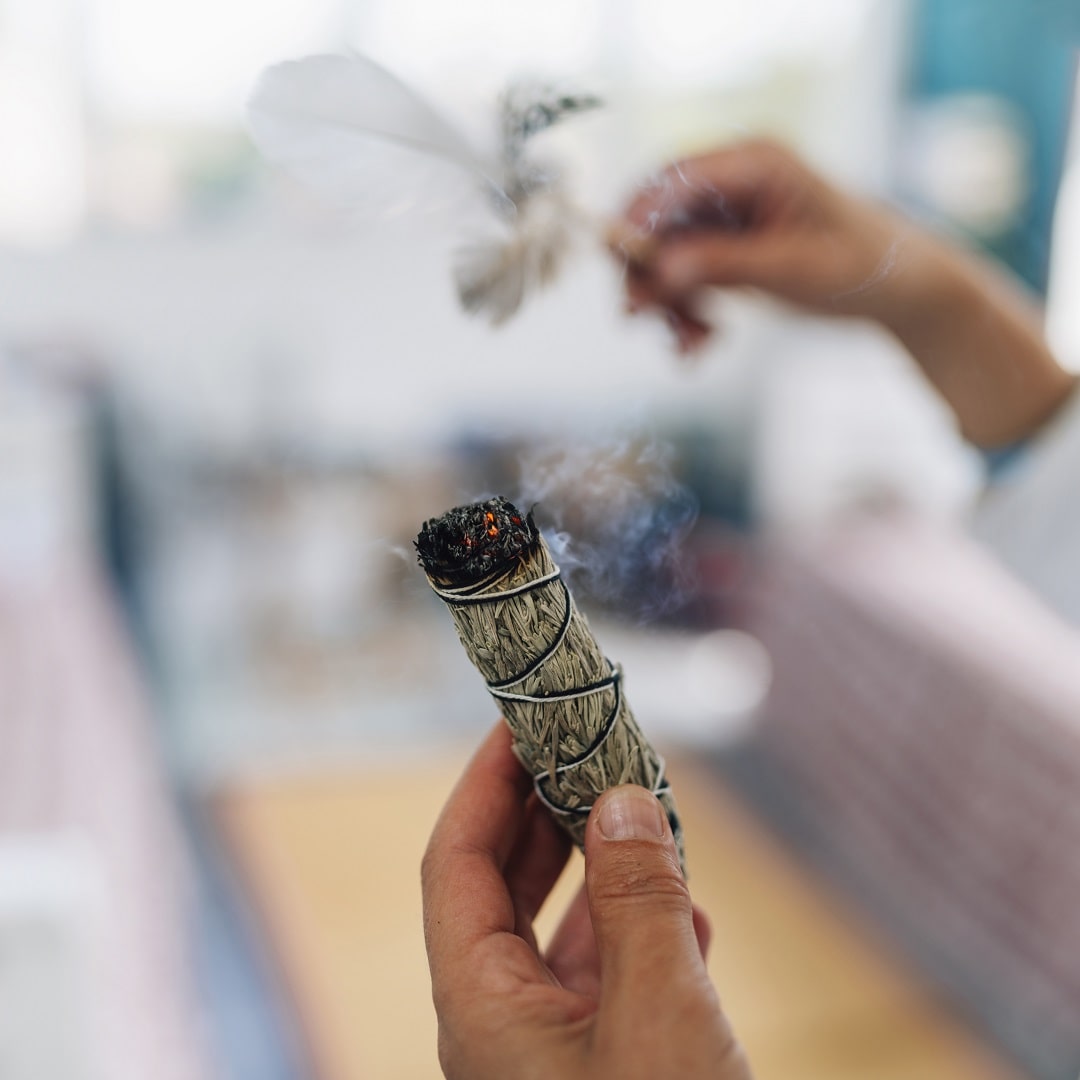 Whether you are facing trouble sleeping at night or are experiencing any spiritual obstruction in your life, smudging is the practice that works like a cleansing ritual to free your home from any of such unwanted energies.
To start with the smudging ritual, you need to follow specific rules to make it effective:
Choose a Plant Considering its Properties
There are different types of plants used for smudging that serves different properties and channelizes various forms of energy:
White sage increases your psychic awareness and gives you longevity, protection, good health, and healing attributes. It dispels the negative energy out of your home.
Sweetgrass invites positive energy to your home.
Cedar cleans the home or space while someone is ill or has been cured for a while.
Lavender is used for attaining good sleep, protection, blessings, tranquillity, and healing effects.
Palo Santo draws out the evil spirits from your home and eradicates negativity. It will help you connect deeper with your inner spirit and spread positivity around the space.
Open all the Windows
In the next step, open all your house windows to drive out the negative energy. It guides a path for the negativity to get out of your house.
Light up the Smudge Plant
Burn the plant while standing at your house's main door. Once the smoke is released, waft the burning plant and its smoke all around the home. Waft the smoke multiple times towards all windows to give a path to exit your home.
Keep going around all the house corners, and close the ritual when you reach the main door again.
Smudging Your Aura
Negativity is not just around the space but might have lingered on you. So, take help from someone, ask them to light the plant, and circle the smoke around you. Ask them to keep the motion from top to bottom.
The smoke will cleanse you, and negative energy will be released from your body. You are inviting positivity to be around you and your house. If you don't have a friend to do it, then you can practice this ritual yourself as well.
Chant Mantras During the Smudging Ceremony
If you are repeating mantras or affirmations during the smudging ceremony, the effect is said to be much better. It is to ensure that the true intention of the ceremony is conveyed to the almighty. Here are a few affirmations or mantras you can say while smudging your home:
Inviting Positive Energy- I am opening this space for divine blessings. May all the energy that flows around this space be positive to heal our body and soul.
Removing Negativity- With the smudging rites, I am commanding any negativity that persists around this space to leave and be part of the light. We don't welcome you here and are commanding you to free up our aura and space for positivity.
Parting Words
It is a very effective technique that spreads the aroma of positivity and cleanses us from within. When the smudging ritual is done, close your eyes and imagine your house filled with bright light. The visual will be so accurate that your inner soul will be nourished with it.
So, the next time you feel like the world's upside down for you, blame the energies around you, not yourself. You ought to do something for it, and YRMA Wilson in Beverly Hills, CA, can help you achieve it.
She has been an expert in this job for a long time and can sense negativity and guide you with the proper sense of action. Let her cleanse the bad happenings out of your life, whether it is you, your family, or your home. Get in touch or book your service now.